Kitchen Transformation on a Tight Budget
March 8, 2012 at 5:00 am plumbtile Leave a comment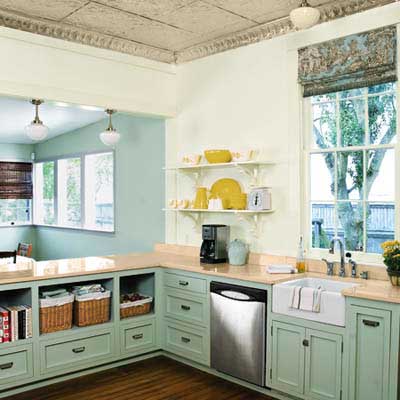 It doesn't have to break the bank to bring new life to an outdated, dreary kitchen.  Bright colors, fresh paint and jazzy latches and pulls paired with the willingness to jump in and do it yourself is an economical way to create a space that draws friends and family in to a warm, welcoming focal point of your home.  Plumbtile carries a lot of great products to help you revamp your space and stay in budget.
You can check out our selection of sinks, faucets, and accessories for your kitchen.  We offer a selection of products for a variety of styles and budgets.
Budget saving tip: To give your kitchen a fresh look, it isn't necessary to gut it and replace everything.  By doing a simple upgrade of your sink, faucet, and cabinet knobs, your kitchen will have a fresh new look.
Check out these pictures of how a family created an open kitchen in their 1852 cottage in Baton Rouge, Louisiana that invites family and friends to gather round.
Photo: Jack Thompson
Entry filed under: budget, Budget Friendly, How-To, remodel, renovation. Tags: budget renovation, kitchen remodel, kitchen renovation, renovation budget.